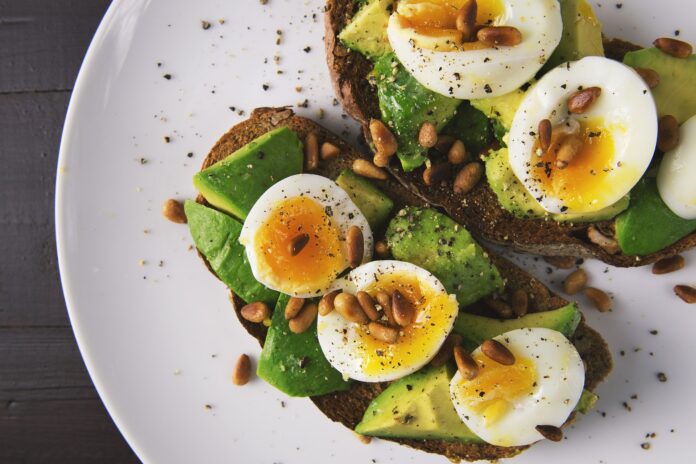 We all know how challenging it is to stay healthy and fit while following a busy work schedule daily. However, if we overlook the importance of health and fitness in our life, it can bring serious consequences including a compromise on lifestyle and inability to work efficiently. Therefore, it is necessary to maintain ideal health and fitness of your body in addition to keeping up with your daily work schedule. The situation has become more challenging lately because of the advent of Covid-19 pandemic where we all are restricted to our homes and people are not allowed to visit their gyms and fitness centres to keep their health and fitness in check. That is why you need an effective diet plan and a complimentary workout plan that is possible at home. In this blog, we will discuss the Egg Diet Plan for Weight Loss and fitness, this will help you shed additional pounds that you have put on during the lockdown situation because of staying at home and taking fast food in imbalance proportions. We have put together all the information you need about this plan.




What is an Egg Diet Plan?
The egg diet plan is a weight loss program that can help you get back in shape and shed additional pounds because of fatty meals and avoiding morning walk and exercises. This diet plan usually emphasizes on taking proportions of meals with high amounts of proteins, low carbohydrates, and low amounts of calories to produce a calorie deficit that boosts weight loss effectively. This diet plan is structured in such a way that it increases the chances of weight loss. The egg diet plan has different variations with one that includes egg-diet only. Basically, you will eat three meals a day while following the egg diet plan without any snacks and drink water or beverages with zero calories. This diet plan was first introduced in the 1970s when it was named as egg and wine diet. However, it gathered the attention of people and gained popularity in 2010. It is thought to be a derived version of the keto diet that is more restricted and capable of bringing desired results swiftly. It is structured around eggs that are considered a complete package in terms of nutrition as they contain high amounts of protein and other essential nutrients like vitamin D, vitamin A, Vitamin B-complex, necessary fats, and phosphorus. All these nutrients provide your body with the required energy. Additionally, eggs also contain riboflavin, selenium, and choline that can help you stay healthy and keep your body in good shape.
Egg Diet Plan for Weight Loss
As discussed earlier, there are multiple types of the egg diet plan, people wishing to shed their fats effectively need to follow any of these types as per their comfort. Some of these types are listed below:

The 3 days egg diet which is commonly known as 3 days egg fast is a quick way to shed additional pounds without compromising too much. People who are fond of eating eggs or making eggs an essential part of their daily diet will surely enjoy this diet plan. As we all know the egg diet plan whether it is for 3 days or a longer duration is structured around eggs. Although there are many variations in the 3 days egg diet but keeping it simple you have to eat eggs while having breakfast, this is necessary.  You have to eat grilled or boiled chicken with 1 hard-boiled egg during lunch and for dinner, you can take small proportions of fish and low-carb vegetables.
7 Days Egg Diet:

As discussed earlier, you can follow any variation of the egg diet plan as per your convenience, the only thing you have to do is follow a strict diet and you will witness amazing results in a quick time. The 7 days egg diet plan provides your body with just 1400 calories. Basic guidelines for 7 days egg salts are no consumption of salt, using a substitute is better. Drinking 8 glasses of waters a day. Don't drink any beverage with cream or sugar in it. Salad meals should only include tomato, lettuce, and cucumber. Vegetables should be boiled and drained, you can add lemon juice or vinegar for flavour. Meals should only include white meat. Specify the time for every meal and consume nothing in between meals. Stay away from alcohol and beverages that include alcohol during the egg meal diet plan. Depending on the size of your body you can have 1 egg, otherwise, 2 eggs are good.

14 Days Egg Diet:

Following 14 days egg diet plan for weight loss is a good idea, however, it can become challenging for a lot of people to maintain the same diet for this long. This plan requires total dedication and willingness to improve the shape of the body and shed additional pounds from your body. You have to follow an almost similar diet plan discussed earlier in the 7 days egg diet plan for weight loss. You can also have grapefruit in combination with eggs to keep things running smoothly and prevent yourself from distraction. It should be noted that grapefruits and egg diet is a variation of egg diet plan. Some people may try to stay restricted to eggs only, but that is not a good idea. Eggs can't provide your body with all the nutrients it needs. Therefore, use low-carb vegetables and fruits as well to keep your body strong while following this diet plan.
Egg Diet Meal Plan
This meal plan when used in combination of light workout strategy can work wonders in terms of body shaping and weight loss.

The 3-day egg diet plan is a swift way to lose a few pounds and it can help you lose up to 3 to 4 pounds easily if you are following the entire meal plan strictly. This meal plan provides your body with just 900 calories.




The 7-day egg diet plan can help you shed around a dozen pounds easily, it includes consumption of just 1400 calories a week which can create a calorie deficit and force your body to rely on internal fats to generate the required energy for your body.




The 14-day egg diet plan for weight loss can help you lose more than 22 pounds easily if followed properly. This meal plan includes 2800 calories only and can help you lose weight without losing the muscle mass, thus, keeping your body fit and energetic.
Does Egg Diet Work?
Many people have concerns about the effectiveness of the egg diet plan for weight loss. We can assure you that this plan works amazingly well and if followed in a combination of light workout plan, it can really help you achieve your weight loss goals real quick. People around the world have experienced its effectiveness, however, there is no research data to prove its effectiveness. It is understood that a high protein diet can help you lose weight quickly. As the egg diet meal plan for weight loss include high protein diet and fewer calories, it will be effective for people who seek quick yet feasible ways to lose weight and get back in shape.
The Takeaway
The egg diet plan for weight loss can work effectively and bring expected results in a quick manner. However, it needs your dedication and willingness to reach your target. Make sure that you follow a specific variation of the egg diet plan for weight loss strictly and carry out a set of light exercise to keep your body charged up on the daily basis. Once you follow the proper guidelines for egg diet, you will start witnessing positive results swiftly. Lose your additional pounds and enjoy a healthy lifestyle with the egg diet plan for weight loss!